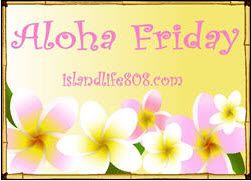 Welcome to this week's edition of Aloha Friday.
In Hawaii, Aloha Friday is the day that we take it easy and look forward to the weekend. So I thought that on Fridays I would take it easy on posting, too. Therefore, I'll ask a simple question for you to answer. Nothing that requires a lengthy response.

What color is your mood ring right now?
Mine is as blue as the sea cause I'm relaxed! Gracie is at school and it's quiet.